Overview
Established in 1906, the Singapore Chinese Chamber of Commerce & Industry (SCCCI) is an internationally renowned business organisation and the apex body of the Chinese business community in Singapore. It is the founder of the biennial World Chinese Entrepreneurs Convention and the World Chinese Business Network (www.wcbn.com.sg), a global online business information portal. It plays a key and pro-active role in representing the interests of the local business community. In its continued drive for service excellence, the SCCCI has become the first business chamber in the region to be awarded ISO 9001 certification since 1995. In 2018, the Chamber successfully upgraded its ISO certification to ISO 9001:2015.
The SCCCI has a membership network comprising some 5,000 corporate members and has more than 160 trade association members, representing over 40,000 companies including large financial and business organisations, multinational corporations, government-linked companies, and small and medium enterprises from a wide spectrum of trades and industries. These members together provide vast resources and opportunities which enable the SCCCI to develop an influential global Chinese business network for business, education, culture and community development. In return, they share a strong sense of pride and identity together and benefit immensely from the SCCCI's membership services, facilities and activities.
Mission & Vision Statements
Mission
• To promote the development of industry and commerce, the economic prosperity, cultural and educational activities as well as the community services of Singapore.
Vision Statement
• To be the choice Chamber for the business community, providing members with an influential global Chinese network for business, culture, and education.
Our Quality Policy Statement
We always bear in mind Quality First in our service. We continue to work smart and hard together to improve our Quality Service and strengthen our Membership Network as a strategy to fulfill our mission.
Organisation Structure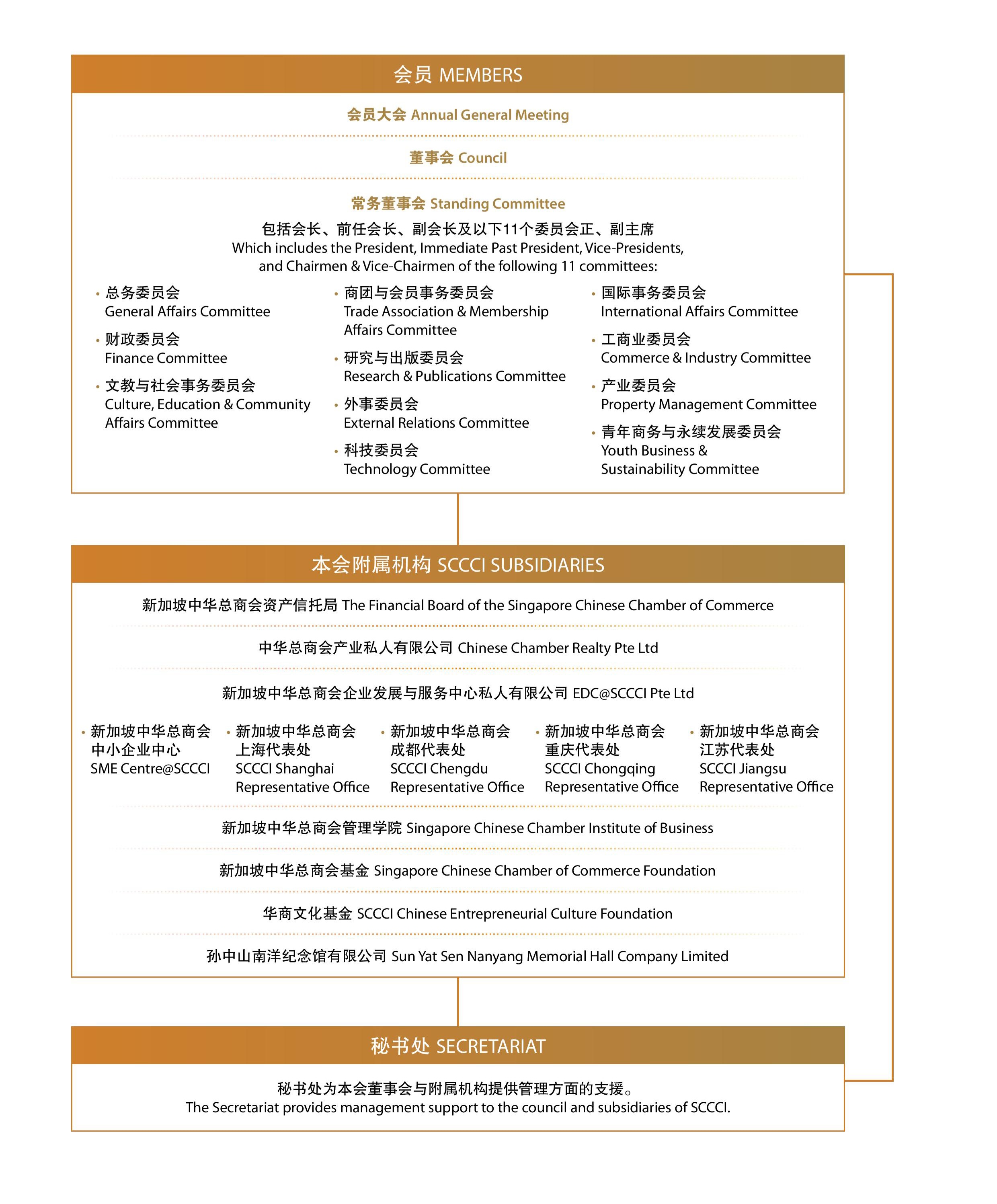 SCCCI's 61st Council
Standing Committee Members, Council Members
Honorary Presidents, Senior Honorary Council Members, and Honorary Council Members
The Secretariat
The Secretariat provides management support to the Council and subsidiaries of SCCCI.