SCCCI Annual Business Outlook Forum 2022 (English) - Riding the New World with Reality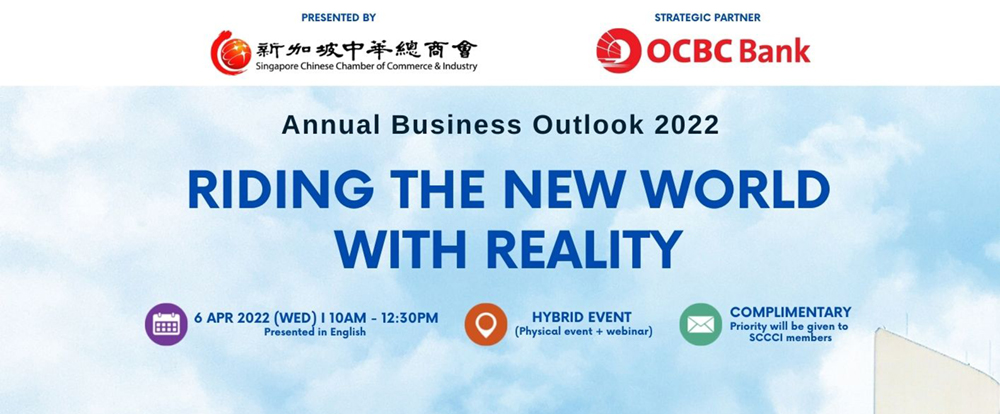 Non-Member Price: Free
Member Price: Free
Uncharted scenarios in the past year have confronted many businesses, thanks to an uneven post-pandemic economic recovery, increasingly digitalised societies, battle of hegemony in geopolitics, and pressing climate challenges. The 20th edition explores the possibility of a shift in focus to policy measures to drive the following phase of economic growth.
Together with a panel of carefully curated industry subject experts, they will speak on the global economies in the year ahead to help you better manage the transition and make the most of the post-pandemic recovery.
Get key insights on:
Key developments to monitor, and how should businesses position themselves amidst the unfolding regulatory tsunamis?
Where are the next investment opportunities or threats in 2022?
Challenges faced by the US and China and the outlook of the world's two largest economies
Breakthrough technologies and digital disruptors investors should keep a lookout
Pathways for Singapore businesses to stay resilient in the evolving and fragile environment and leverage their neighbouring ASEAN countries
Speakers:
Selena Ling - Chief Economist, Head of Treasury Research & Strategy, Global Treasury, OCBC Bank
Vasu Menon - Executive Director, Investment Strategy, Wealth Management Unit, OCBC Bank
Dr. Wilson Chew - Partner, Strategy, Entrepreneurial and Private Business, PwC Singapore
Moderated by:
Prof. Annie Koh, Professor Emeritus of Finance (Practice), Senior Advisor, Business Families Institute, Singapore Management University
Due to prevailing Safe Management Measures, in-person attendance is reserved for invited guests only.
For more information on the above event, please email mistical@sccci.org.sg or call 6430 8363