Key Traps to Avoid in Your Business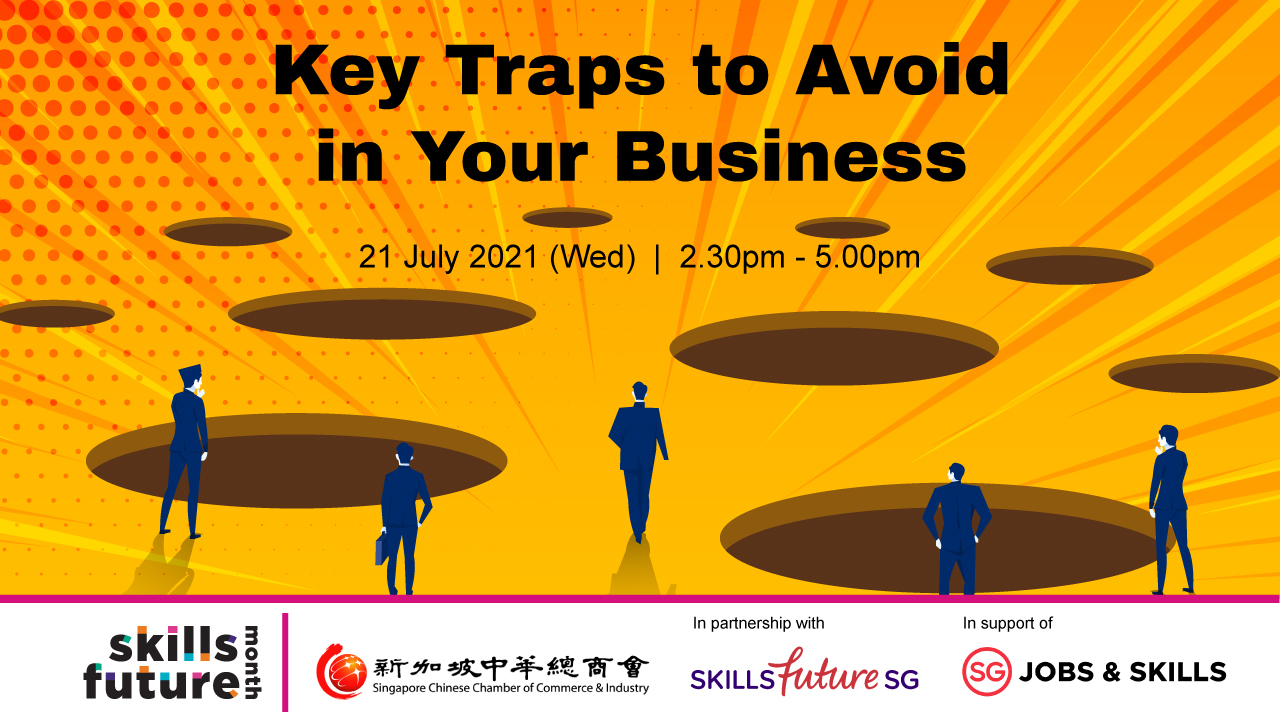 Non-Member Price: Free
Member Price: Free
This workshop webinar is held in support of Skillsfuture Month 2021 Enterprise Series.
Business has always been complex, getting it right and becoming successful and sustainable over the long term is not easy. It not only takes hard work and knowledge, but a desire to regularly step outside of your current comfort zone and challenge the assumptions you have built into your business leadership model. Without this, you risk not keeping ahead of the competition and losing your impact by missing out on capitalising on key parts of your business to help drive further success.
All business owners are focussed on revenue generation and strategy, but what about everything that sits underneath that? Such as:
Parts of your business that are impacted greatly by changing technology, beliefs and values;
Key hidden areas in any business, which if done well lead to amazing success, but if done poorly or are overlooked, can cost you greatly, leaving you wondering just what is limiting your business.
As a business owners, we need to be very focussed on revenue and keeping our business afloat, particularly in times of crisis like a global pandemic. Whilst this keeps us solvent, it often leads us to overlook key business areas that can actually gain us revenue and save us money. These are the areas that great businesses have built into their strategic plan and leadership direction.
This webinar will help you uncover these key areas in your business and put a plan in place to capitalise on them, taking your business from good to great – all while keeping you away from losing money, or people by falling into the hidden traps.
Agenda
Workshop: Key Traps to Avoid in Your Business



Introduction

Where are we now and what does that mean?
What are the new generation of workers looking for?
What are the best businesses doing to achieve this



Breakout Group Discussion


Key Focus Aeas that will allow you to develop a sustainably success business that can survive challenges and utilise its greatest assets - Your People

Continuous Improvement
Brand equity
Leadership - Are you Authentic?
Culture vs. Strategy - Who Wins?
Business Mismatches- How to Avoid Them?



Q&A and Closing

Facilitator
Lisa Askwith
Speaker+ Global Radio Host + Moderator + Facilitator
Assistant Professor of Business Administration, Cambridge Corporate University
I am a highly motivated and skilled senior business leader, whose passion is success through people. Possessing extensive experience in people management, strategic planning, restructures, reinvigorating companies, and establishing successful start-ups, I now regularly take the stage to help others achieve higher levels of success. I have a keen focus on Engaging your People for Success, and helping you apply the strategies to ensure this happens effectively in your business.
As I regularly work in the C-suite of local, and international business helping them achieve success, remove obstacles and solve problems, I can easily keep up to date, and often ahead of emerging trends and needs. This allows me to confidently provide key notes, moderation, and facilitation at Business events.
Join us in this interactive webinar to benefit from the getting ahead of the hidden traps many businesses fall into.
The webinar link will be emailed to participants 2-3 days before the event. For queries, please email emelyn@sccci.org.sg.