Intangible Assets 101: Driving success, failure, and higher valuations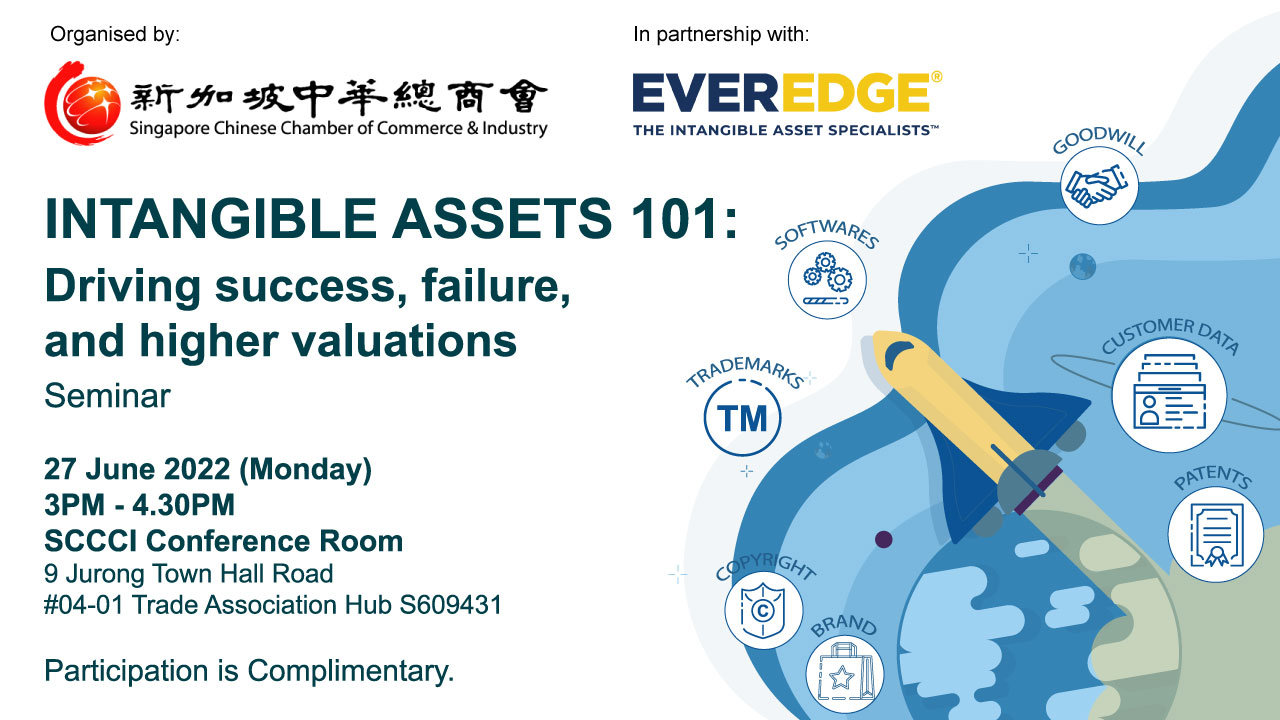 Non-Member Price: Free
Member Price: Free
Today, Intangible Assets (such as data, brand, content, confidential information, design, inventions, know how, relationships and industry expertise) account for more than 90% of all value for companies in the S&P500 – and the same is also true for most small to medium enterprises, with this figure typically being even higher for early stage and technology ventures.
Yet these critical assets are typically off-balance sheet and are essentially ignored due to a quirk in modern accounting standards. This has led to a situation where many companies do not understand how to maximise the potential of these assets. For small to medium enterprises looking to scale, an understanding of how to leverage your Intangible Assets can accelerate growth and help drive increased profitability and greater margins.
Join Paul Davies, Managing Director, and Richard Teo, Associate Director, at global Intangible Asset advisory, valuation, and corporate finance firm EverEdge Global, as they share insights, case studies, and practical advice on for to identify, scale and value your Intangible Assets, including:
• What are intangible assets and why are they so critical
• How intangible assets drive your competitive edge
• Key intangible asset risks and how to mitigate them
• How to leverage intangible assets to achieve a higher valuation
SPEAKERS
Paul Davies, Managing Director, EverEdge Global
Paul is a global leader in the management, strategy, and commercialization of intangible assets. He works with a range of companies, from start-ups to large enterprises. Paul helps his clients implement strategies to identify, manage, value, and monetize their intangible assets, whether these are held in registered forms such as patents or unregistered forms such as trade secrets and knowhow. Paul has a wealth of experience in negotiating commercial deals, with a specialization in brokering licensing deals between technology firms and large multi-nationals. He also has significant expertise in advising on multi-million-dollar transactions of intangible assets and associated business units and with helping companies to develop commercial strategies for exit and/or business succession. Paul's experience and expertise are recognized globally. Paul has been named six-times as one of the world's elite intellectual property strategists in the IAM Top 300 IP Strategists. He is a sought-after international speaker, sharing his knowledge and insights into intangible assets at many events across the globe each year. Prior to joining EverEdge, Paul held a number of senior positions with patent attorney and law firms internationally, including Deacons Hong Kong, Baldwins and AJ Park, where he worked with hundreds of companies, from technology start-ups to multi-billion-dollar US multi-nationals. When he is not working with EverEdge clients, Paul works closely with start-up opportunities through related interests.
Richard Teo, Associate Director, EverEdge Global
Richard Teo is an Associate Director at EverEdge, a global intangible asset advisory, corporate finance, and investment firm, where he enables companies, investors, and professionals to build, unlock and accelerate the value in intangible assets to increase profit margins, market share and company valuations.
Prior to joining EverEdge, Richard worked in Singapore in internal strategy roles for multinational corporations, such as DHL Supply Chain, management consulting roles in consulting firms, such as Frost and Sullivan and Technology roles in Semiconductor firms such as Infineon Technologies. In total, he has more than 16 years of combined experience in Corporate and Business Strategy, Business Development, Mergers and Acquisition (M&A), Technology Commercialisation and Business lecturing with strong exposure to the China and South East Asian markets.
-------------------------------------
Registration is confirmed upon receipt of a confirmation email at least 3 days prior to the event. For queries, please contact us via email to emelyn@sccci.org.sg.
You may also do a walk-in registration on the event day.