Dynamics Capabilities & Change Management - Leadership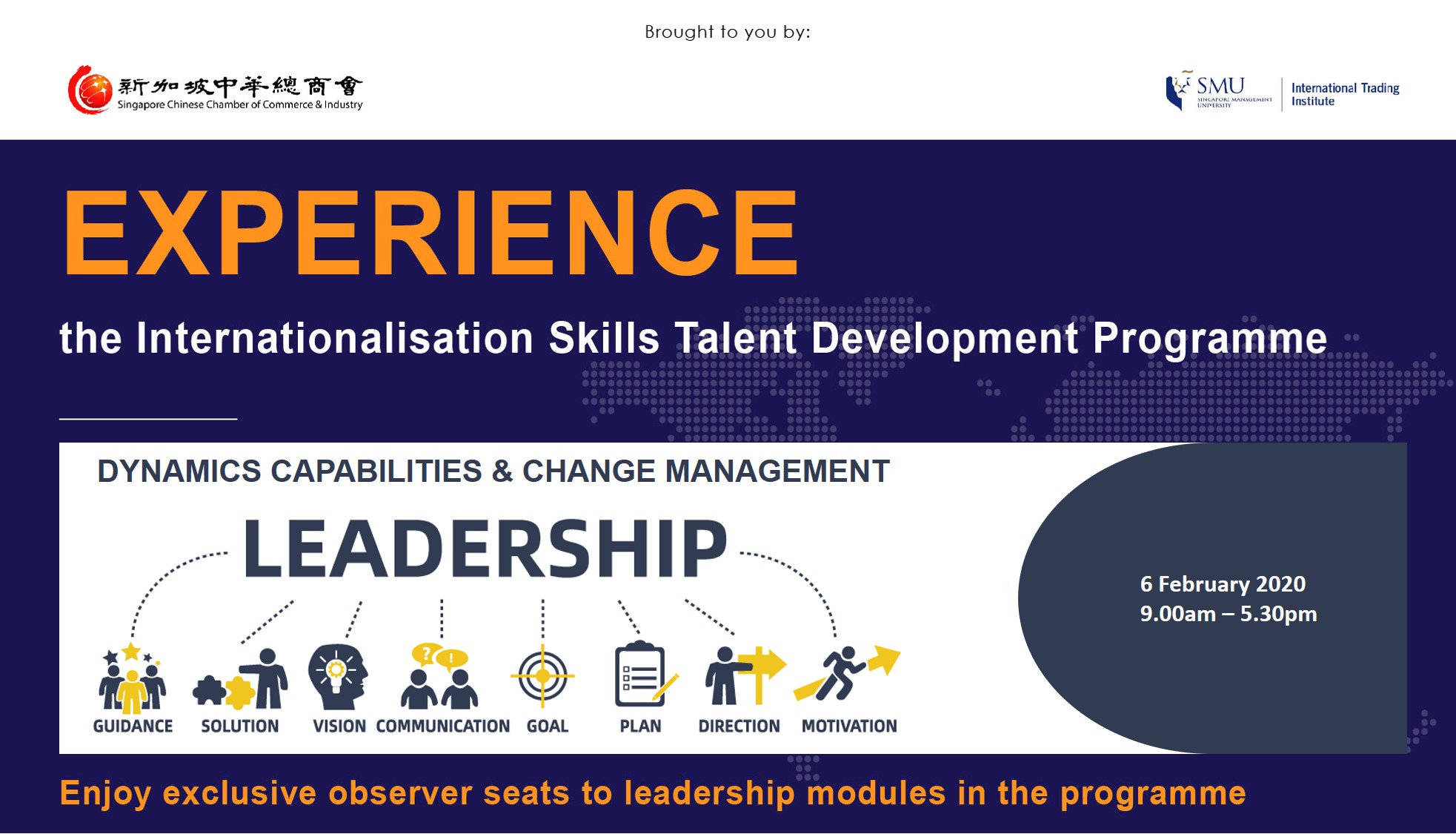 Location
:
Classroom 3-3, SMU Connexions, 40 Stamford Road, Singapore 178908
Non-Member Price: Free
Member Price: Free
This is one of the leadership modules offered under the International Trading Institute (ITI@SMU) Internationalisation Skills Talent Development Programme. Limited observer seats are offered to SCCCI members.
As businesses move beyond local and regional markets—what got them here will not get them there. Leaders will be required to develop a new set of mindsets, skill-sets and toolsets. These include becoming aware of one's own leadership behaviors, styles and impact on others, developing a "global mindset" and the ability to embrace ambiguity, uncertainty and complexity.
This one-day session focuses on the enhancing of self-awareness, areas of leadership "step-up", and enabling participants to appreciate the leadership challenges and opportunities associated with their exciting journeys of internationalization. Using small group activities, experiential exercises and interactive discussions, we will bring these themes to life. At the end of the session, participants will:
Appreciate the implications of internationalisation on leadership behaviors
Gain a deeper better understanding of their own leadership behaviors and areas of change needed
Become aware of key concepts - global mindset and growth mindset
Learn how to inspire and motivate their teams to navigate the increasing complexities of their business
Trainer Profile:
Dr Sandhya Karpe,
Lecturer, SMU
CEO, Imagine Education Design Studio
Dr Sandhya Karpe is the CEO of Imagine Education Design Studio. Prior to this, Sandhya joined Duke CE in 2016. As Managing Director in the Singapore office, she is responsible for expanding Duke CE's footprint across the APAC region, building strategic client relationships and leading program design, delivery and execution. Her expertise and professional interests lie in the area of organizational behavior, women in leadership, board director development and institutional capacity-building, and her work and life experiences span multiple cultures and contexts, globally.
Prior to Duke CE, Sandhya was Head of Temasek Management Services' (TMS) Academy in Singapore and the Chief Enterprise Learning Officer. She successfully launched a new leadership academy as well as several innovative open and custom programs for Board Directors and C-level executives in a highly competitive market. Before that, she was Head of the Customized Solutions practice at The Wharton School of The University of Pennsylvania, where she led a large team of professionals and had P&L responsibility for a $40M portfolio.
Participants will be screened for relevance and fit with the programme's objectives. A confirmation email will be sent to participants who have successfully secured a seat.