Discovering the Strategic Business Potential of the Circular Economy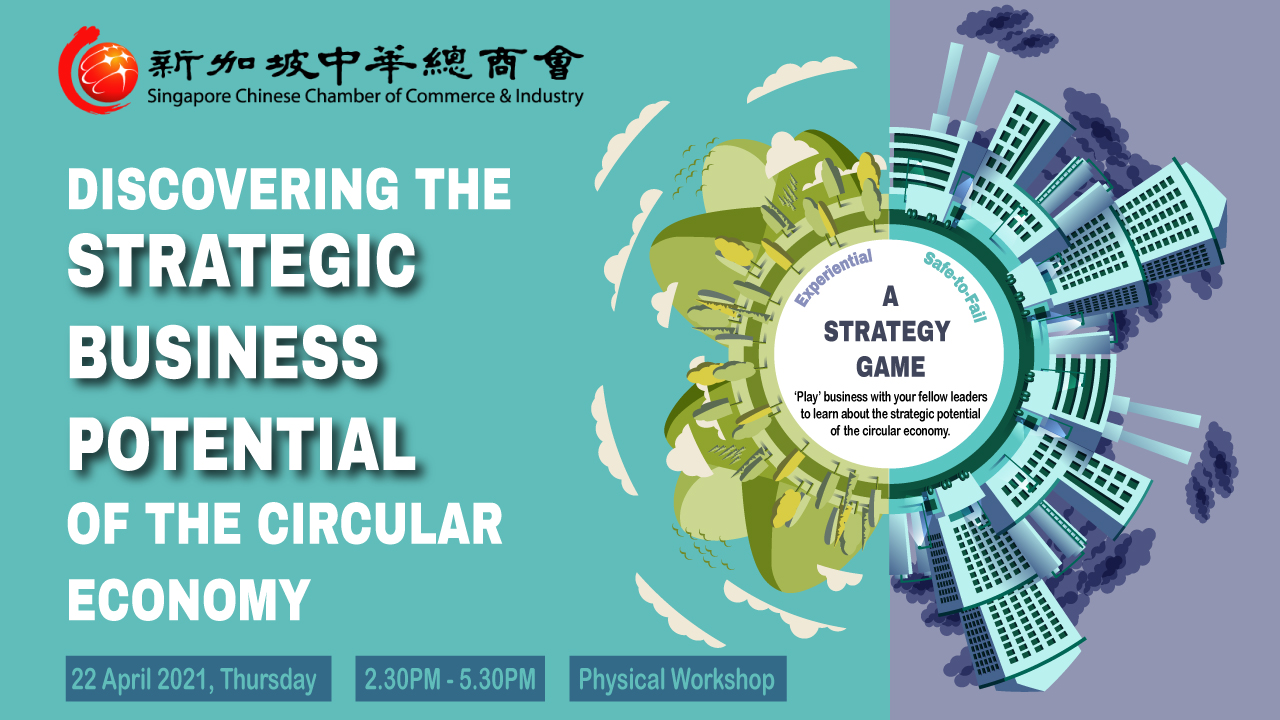 Non-Member Price: Free
Member Price: Free
Many businesses have triumphed today and believe that they know what it takes to create and deliver products to market successfully or maintain a business. This state may be based on historic experience and a more stable, understood, simple, clear paradigm. But what happens when the rules of the game change and there is no longer a precedence from which to draw from? What tactics can you employ when global interconnected forces converge at a fast pace - challenging your critical decision-making and commercial operations in a paradigm that we have already shifted into (accelerated by Covid-19 pandemic), but do not yet understand how to navigate?
What new business model can your organisation adopt for resilience?
Respond to these forces and 'play' business to spark discovery and engage in face-to-face discussion on how we use resources and find solutions in a fun and engaging way.
STRATEGY GAMEPLAY
This game was designed to spark discussion about today's society and illustrate the need for systems thinking in addressing environmental, social, and technological issues.
The game emphasises concepts behind material criticality, resource use, and cost & value of waste. This enables the players to reflect on production, usage and disposal of products.
Players will learn not only of the nature of the current risks but also discover ways to look ahead to the future in a world where supply and demand imbalances might be mitigated using the strategies and archetypes presented in the game.
GAME OUTCOMES
Learn what it means to move towards a more circular economy.
Be challenged in your perception of strategies that lead to success in business.
Uncover your own biases in relation to decision-making and game theory.
Experience the impact of trade-offs when applying various business strategies.
Learn about product lifecycle as well as resource-efficient and -effective solutions.
Participants will have a greater understanding of circular economy strategies and business models, which could be applied to their enterprise.
FACILITATORS
Anna Itkin, PhD has spent nearly two decades at the vanguard of scientific research and innovation in both academia and industry with extensive experience in innovation, systems thinking and cross-disciplinary work. In 2016, Anna co-founded The Inceptery Pte Ltd – a sustainability-led innovation consulting firm focusing on business model innovation and looking to address the ever more pressing need for businesses to simultaneously become economically, socially, and environmentally responsible, resilient and regenerative, thereby creating a long-term positive impact. Anna lives in Singapore.
Marisa Agrasut is Co-Founder & Partner at The Inceptery. For the last 18 years, Marisa has been working with teams helping them understand, apply and leverage tools, frameworks and methodologies to optimise value creation. A graduate in Strategic Design Management, she harbours a lifetime fascination with the power of externalising creative processes collectively to help sense-make, gain insight, find needs, opportunities and originate ideas; to bring about new consciousness, solutions, businesses and technology to improve human-planetary conditions profitably.
***
Please note that this is an in-person workshop held at a physical venue. Seats are very limited due to restrictions under prevailing Safe Management Measures.
Kindly indicate your interest to attend this workshop. Participants who are successful in their registration will receive a confirmation email 1 week prior to the event date. Priority is given to SCCCI Members in the Manufacturing industry.
For queries, please email Emelyn at emelyn@sccci.org.sg.