Customer Communications in the Digital Age Webinar Series - Managing Media Content Creation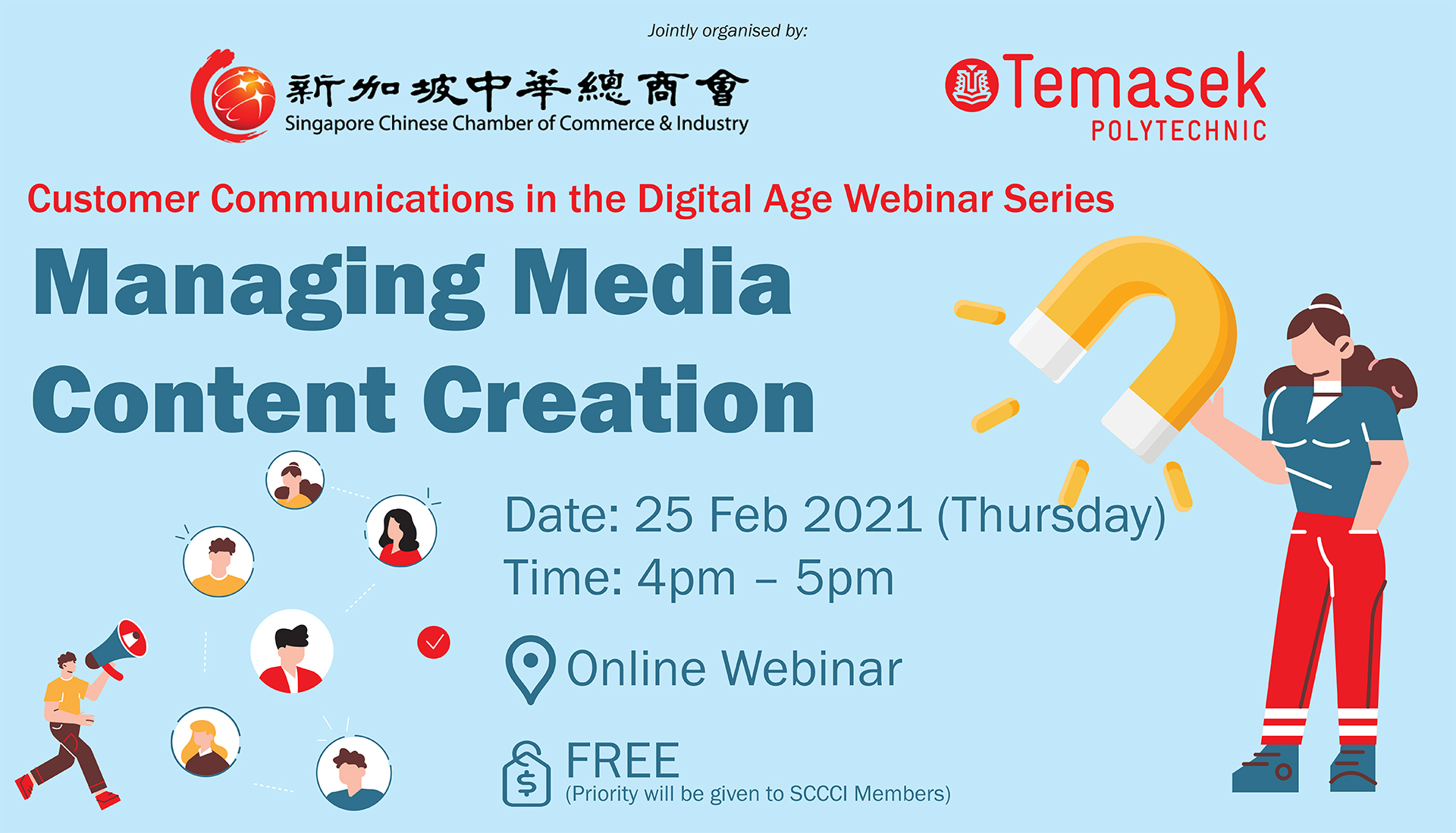 Location: Online Webinar
Non-Member Price: Free
Member Price: Free
As online and social purchasing underpins modern consumer behaviour, understanding and optimising digital experiences form a crucial part of mapping the customer journey. B2C brands need to grasp the moments of customer-brand interactions to effectively establish their position and build loyalty.
SCCCI join hands with Temasek Polytechnic in this series of 3 webinars to share tips and strategies on how brands can reach out to, connect, and engage with their customers on a 2-way street to build relationships.
Synopsis
What can grab customers eyeballs? Where do they turn to for information? Which content works for each channel?
Get an overview on what constitutes effective content creation on digital media as we bring you through the management of digital content and the use of appropriate digital tools to produce content for different media platforms.
Webinar Highlights
Participants will gain insights to:
• Propose effective digital communication strategies for a business environment,
• Manage content for various digital platforms of paid, owned and earned media,
• Produce digital content that reaches out to target audiences effectively.
As one of the pioneers of the Digital Business Transformation Centre in Temasek Polytechnic, Hwee Min has been helping SMEs in their digital journeys in social media content creation and digital marketing. Prior to joining Temasek Polytechnic, she owned and ran ReStore, a vintage furniture shop and café. Although social media was then just evolving, she adopted social media tactics to reach out to her target market of vintage furniture collectors. As she enjoys the creative conceptualising process, Hwee Min was also the founder of a boutique advertising agency and serviced accounts such as HSBC, NTUC Income and Jetstar.
For enquiries, please contact Mr Zekson Tan at zekson@sccci.org.sg or 6337 8381