Customer Communications in the Digital Age Webinar Series - Handling Complaints and Feedback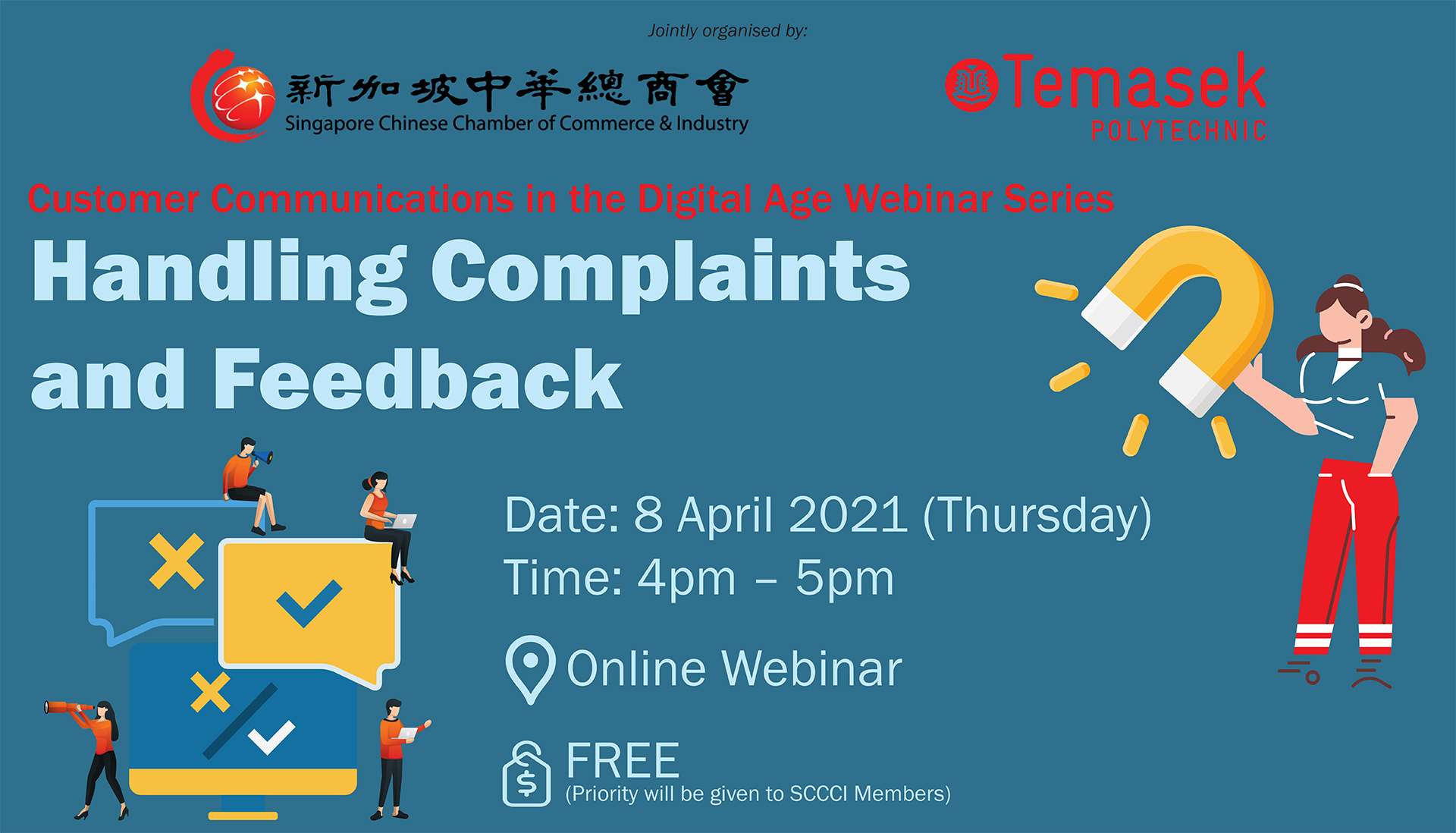 Location: Online Webinar
Non-Member Price: Free
Member Price: Free
As online and social purchasing underpins modern consumer behaviour, understanding and optimising digital experiences form a crucial part of mapping the customer journey. B2C brands need to grasp the moments of customer-brand interactions to effectively establish their position and build loyalty.
SCCCI join hands with Temasek Polytechnic in this series of 3 webinars to share tips and strategies on how brands can reach out to, connect, and engage with their customers on a 2-way street to build relationships.
Synopsis
Today's customers are vocal about their brand experiences and will not hesitate to escalate their concerns and issues on their expanding choice of communication channels.
Get an overview on the communication process to understand the styles of communication for various stakeholders and explore effective ways to manage complaints and handle feedback for relationship building.
Webinar Highlights
Participants will gain insights to:
• Understand the communication process,
• Manage challenging situations with complaints and feedback,
• Apply complaint resolution techniques.
After graduating from National University of Singapore with a Bachelor in Business Administration, Patricia started her career with telecommunications company MobileOne (M1), specialising in customer relationship management. She then went on to gain more corporate experience with several statutory boards in the area of media publicity, public relations, publications and protocol management. Prior to Temasek Polytechnic, she was a Communications Manager with the National Parks Board where she handled media relations and crisis communications. She holds a Master of Arts in Applied Linguistics and facilitates both PET and CET learners in media, communications and journalism related subjects.
For enquiries, please contact Mr Zekson Tan at zekson@sccci.org.sg or 6337 8381