Customer Communications in the Digital Age Webinar Series - Communicating with Customers on Social Media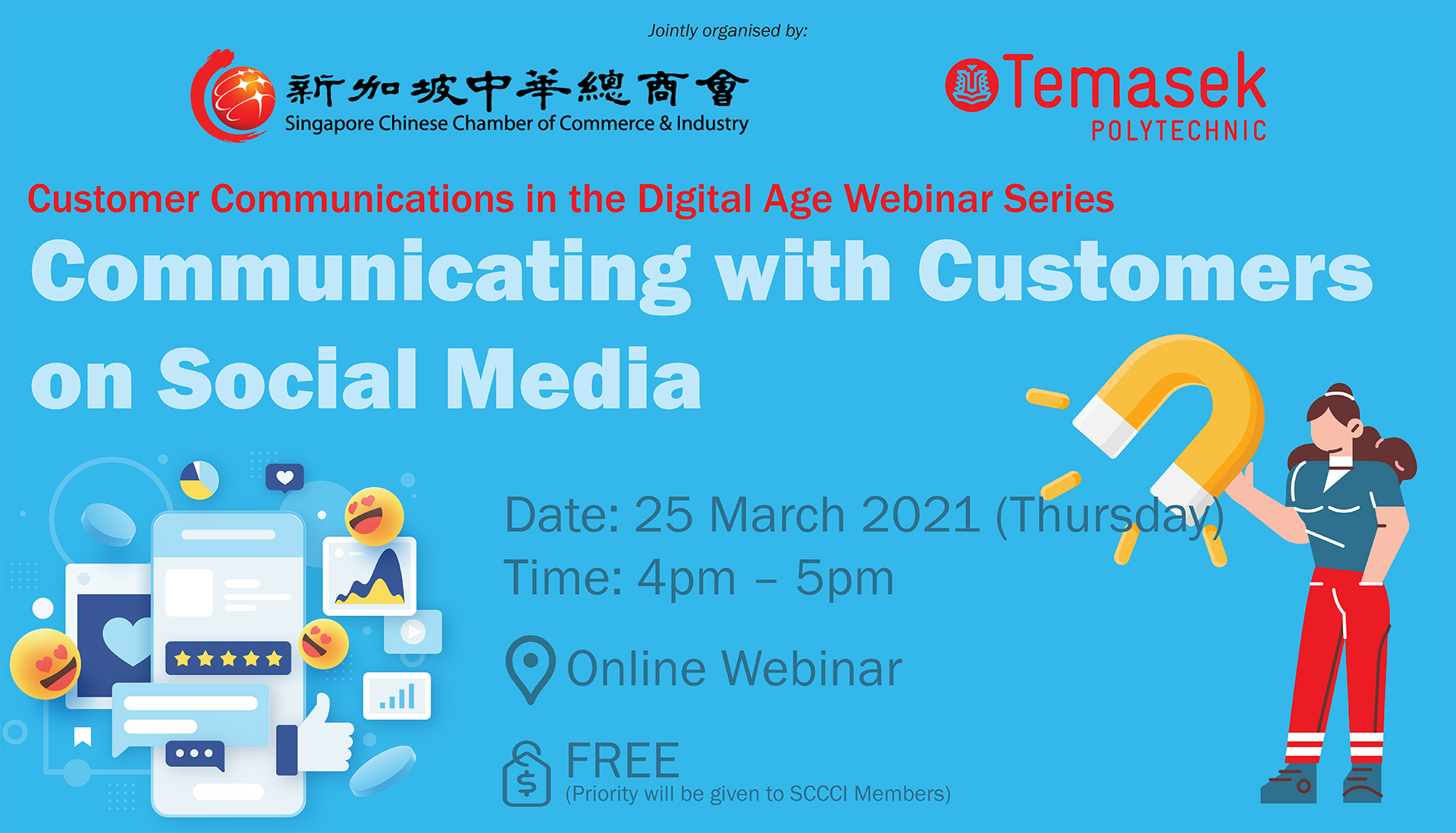 Location: ONLINE WEBINAR
Non-Member Price: Free
Member Price: Free
As online and social purchasing underpins modern consumer behaviour, understanding and optimising digital experiences form a crucial part of mapping the customer journey. B2C brands need to grasp the moments of customer-brand interactions to effectively establish their position and build loyalty.
SCCCI join hands with Temasek Polytechnic in this series of 3 webinars to share tips and strategies on how brands can reach out to, connect, and engage with their customers on a 2-way street to build relationships.
Synopsis
Everyone is on social media these days; what does it take for a brand to effectively handle each social platform to achieve your desired engagement outcomes?
Delve deeper into the brand-customer relationship in the use of social media to engage customers and achieve marketing objectives, this session explores effective social media marketing strategies, and the opportunities and issues association with social media marketing.
Webinar Highlights
Participants will gain insights to:
• Explain the use of social media in effective marketing and customer engagement,
• Apply digital marketing strategies and vehicles effectively for marketing campaigns,
• Discuss current issues impacting social media marketing.
For the past nine years, Li Yann has been an educator with the Diploma in Communications & Media Management in Temasek Polytechnic. Armed with an Executive Masters in Corporate and Marketing Communications from IE School of Human Sciences & Technology, her expertise ranges from journalism, visual communications to digital marketing. She has a curiosity for all things relating to storytelling and has been a journalist, corporate communications manager and a photo sub-editor during her careers in the corporate world.
For enquiries, please contact Mr Zekson Tan at zekson@sccci.org.sg or 6337 8381