Collaboration in the Time of COVID-19 – Can Businesses Freely Cooperate?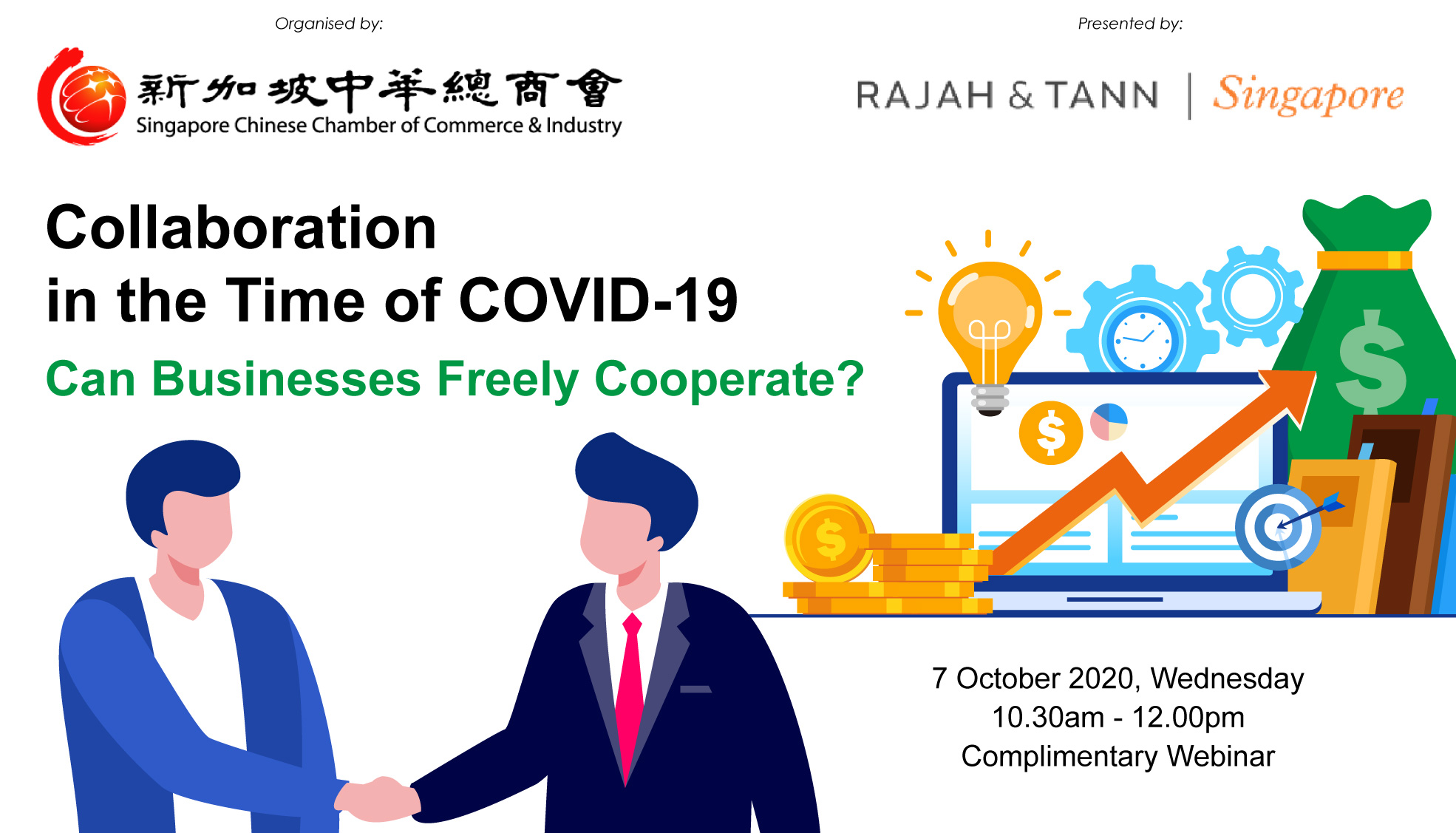 Non-Member Price: Free
Member Price: Free
The COVID-19 pandemic has disrupted global supply chains and thrown up many new ways of doing business. Given the unprecedented effects of COVID-19, some competition authorities have issued guidance and expressly allowed for collaborations in specific sectors to ensure in particular that essential products and services remain available to the public.
In Singapore, the Competition and Consumer Commission of Singapore (CCCS) has issued a Guidance Note on collaborations between competitors in response to the COVID-19 pandemic. What does this guidance note mean for your business? Does it represent a free pass for you to collaborate with other industry players during this exceptional time? Do you need to seek prior approval from the CCCS before undertaking the collaboration? How will these collaborations and coordination efforts be viewed when the COVID situation abates?
Presented by Rajah & Tann, this seminar will unpack what the CCCS Guidance Note means for businesses who are looking to collaborate during this period, and take a practical approach to discuss the do's and don'ts to lower the risk of investigation.
This seminar will discuss:
What are the types of collaboration covered under the Guidance Note?
What is the Net Economic Benefit exclusion and the criteria?
What are the do's and don'ts to lower the risk of investigation for your collaboration?
Hypothetical examples and associated risks.
Speakers:
Kala Anandarajah heads the Competition & Antitrust and Trade Practice and leads the Corporate Governance Practice. Anandarajah has been lauded by clients for being "very dedicated, very quick and precise," as noted by Chambers Asia 2019, described as "super switched-on" by Who's Who Legal 2018, and one with "very wide vision" by Chambers Asia Pacific 2017. Cited Band 1 Trade Practice by Chambers Asia Pacific. Always a forerunner in niche areas of the law, her key practice areas are Competition and Trade (including consumer protection), with strong secondary practices in Employment, Environmental (EHS), Corporate Governance and Telco/Media Laws, where she has formidable accolades. She advises multinational corporations as well as local companies across the region on such matters. She has had many firsts in her career, handling difficult and complex matters, demystifying and simplifying issues to achieve the clients' aim. On competition, Anandarajah has been involved in major cartel/abuse investigations, cross-border mergers control and other notifications, leniency applications, plus dawn-raids, complaints, counselling and compliance in Singapore and across the Region. On trade, Anandarajah advises on export controls, WTOs, FTAs, trade agreements, permits & licensing, anti-dumping & safeguards, customs, customs valuations & duties, and product liability amongst others. Anandarajah takes pride in ensuring that every piece of work she undertakes is targeted and focused, addressing the specific need of the client in a practical business oriented manner – hence the accolades. That has kept her interest in the law ignited. Anandarajah sits on various boards, including Building and Construction Authority and the Singapore Institute of Legal Education. Anandarajah was in 2014 awarded the Public Service Medal (Pingat Bakti Masyarakat) which is conferred by the President of Singapore.
Tanya Tang is a Chief Economic and Policy Advisor with the Competition & Antitrust and Trade Practice. Tanya has extensive competition and regulatory experience, having worked in the competition team at the Infocomm Development Authority of Singapore (IDA) as well as the Competition Commission of Singapore (CCS), where she was responsible for developing policy frameworks and conducting economic analysis for investigation of competition cases. Since joining Rajah & Tann, Tanya has advised extensively on general and sectoral competition law issues covering the telecoms, media and energy sectors, trade matters and telecom regulatory matters. Tanya studied economics at the University of Chicago and holds a Masters in Economics for Competition Law from King's College London. Tanya has been recognised annually since 2016 as a leading competition economist and consulting expert by Who's Who Legal.