16th World Chinese Entrepreneurs Convention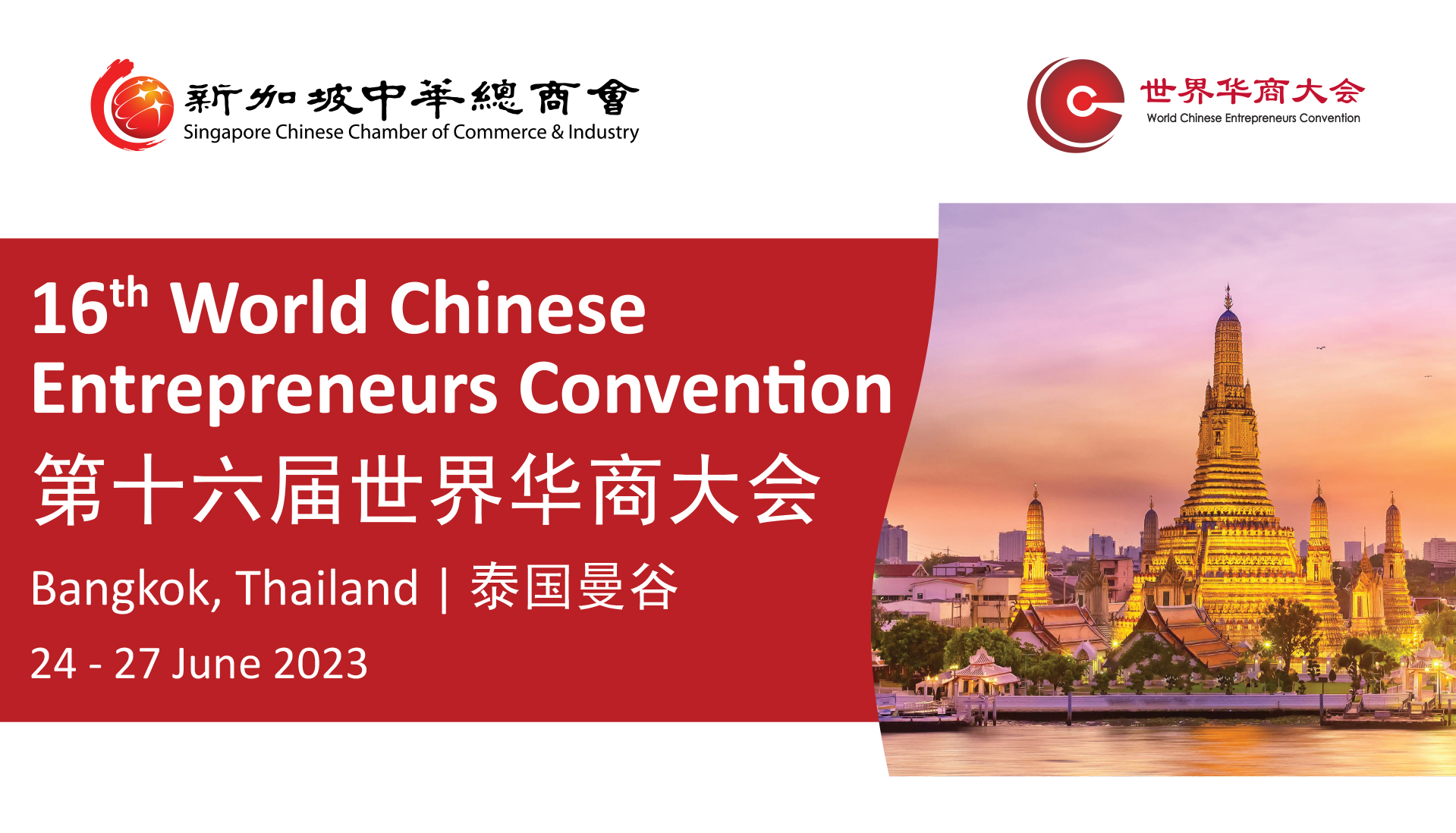 Non-Member Price: Free
Member Price: Free
CLICK TO REGISTER YOUR INTEREST NOW

The WCEC is the largest gathering of Chinese entrepreneurs worldwide, providing a unique opportunity to connect, network, and exchange ideas with like-minded individuals. The event offers a platform to meet potential partners, gain industry insights, and explore the vast potential of the Thai market.
As the second-largest economy in ASEAN, Thailand offers a wide range of business opportunities, particularly for Singaporean companies looking to expand their horizons. With its commitment to developing its economy and international trade activities, Thailand presents a promising market for business growth.
SCCCI invites you to join our upcoming mission trip to Bangkok, Thailand, for the 16th WCEC to discover new business frontiers and connect with global Chinese entrepreneurs on this mission trip.
世界华商大会由新加坡中华总商会于1991年首倡,此后大会每两年分别在世界各地巡回举行,为世界华商及相关国家和地方的工商界提供了增进了解、加强合作的世界级交流平台。
迄今,世界华商大会经已成功举办了15届。第十六届世界华商大会将于2023年6月24日至26日在泰国曼谷隆重举行。本届大会以"汇华商大智慧,谱华族新篇章"为主题,主办机构泰国中华总商会精心策划的三天丰富多彩的议程,让参会的全球华商彼此携手共赢,共享时代机遇的硕果!
Click here for detailed information on the costs and programme
Estimated Costs
Common Fund:
- SCCCI Member: S$300 per Person
- Non-SCCCI Member: S$400 per Person
WCEC Registration Fee:
- Participants: S$815 | Accompanying Person: S$665
Return Airfare:
- Economy: S$500+ | Business: S$1,760+
Hotel Accommodation:
- Deluxe Room: S$280+ per room per night
What to expect
- Keynote speeches from prominent business leaders from around the world.
- Panel discussions on a variety of business-related topics.
- Networking opportunities with Chinese entrepreneurs from around the world.
- Exhibition showcasing the latest products and services from various industries.
- Cultural events and activities showcasing the best of Thai and Chinese culture.
Convention Highlights
24 June: Depart for Bangkok, Thailand | Welcome Dinner
25 June: Opening Ceremony | Business Forum
26 June: Business Matching / ExcursionTour / Golf Tournament / Site Visit | Closing Ceremony | Gala Dinner
27 June: Depart for Singapore